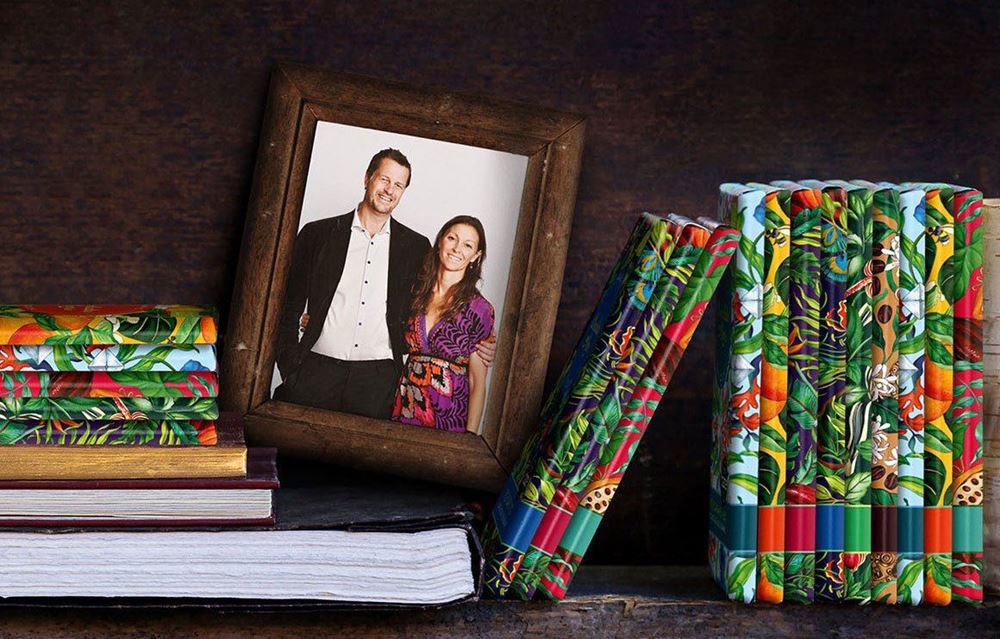 Sourcing some of the World's finest organic ingredients and producing in Switzerland, this award-winning dark chocolate brand is so tasty and full of flavours, you'll love it! In fact, the origin of Chocolate and Love is also a love story: A chocolate-craving Scotsman and a foodie Dane met and took a fancy to each other. So they set out to create one of the best organic ethical chocolate brands in the World.
A love story turned passion project. This is a story about relationships and how a couple have strived to build an ethical business founded on love. Chocolate and Love is a growing family business that supports equitable trade relationships for the purpose of driving social change from crop to consumer in the world of chocolate.
Chocolate and Love was founded by Richard and Birgitte O'Connor in 2010. Leaving behind corporate jobs as chartered surveyor and lawyer respectively, the couple followed their passion for chocolate and desire to develop a brand they could feel good about. Ten years later they are very happy to have the range stocked across 35 countries worldwide.
We are a family-run business creating award-winning, organic and Fairtrade chocolate. And we love it!
Our chocolate bars encapsulate everything we are about: flavours, quality, indulgence; with a strong conscience for the people producing the ingredients and the environment.
We are devoted to creating chocolate bars with high cocoa content and less sugar and have 7 vegan flavours.
We are conscious that we want to create a tasteful experience from start to finish with chocolate that not only look good and taste good, but also do good.
The Chocolate and Love Team is delighted to have won a total of 53 Great Taste Awards so far, having received a further 7 awards in 2021. In addition, our dark chocolate Pomegranate, Coffee and Milk Hazelnut flavours also received awards from Academy of Chocolate. Our smooth Panama was voted the best food product by the Danish health stores in 2017 and our Sea Salt flavour was voted the best food product (out of more than 7,000 food products) by the Danish health stores in 2020. All of these awards are great testament to the wonderful cacao that the farmers are producing.
We hope you enjoy our chocolate!
Remember when you taste chocolate: Place a piece of chocolate on the tongue, chew only a little, then let it slowly melt. You may close your eyes. Magic happens!
Who we work with is as important to us as the quality of our products Our cacao is sourced directly from the Fairtrade certified cooperatives in Panama, Peru, The Dominican Republic and Madagascar.
Knowing that our business and our partners are contributing to the sustainability of the farmers through information, education and industry certification, speaks to the essence of the Chocolate and Love brand.
We are committed to delivering quality and we can do that thanks to the dedicated farmers that produce our wonderful cacao.
You choosing Fairtrade products is a vote for the world you want to see. Farmers can use their Premium funds to become more resilient to climate change, to educate their children and to improve their communities. The difference your support makes for Fairtrade farmers and workers cannot be underestimated. Not only do producers benefit from the safety net of the Fairtrade Minimum Price if the market price dips, your buying commitment also means they are able to plan for the future. Having a more stable income enables farmers to hire workers or invest in their business.
On top of the Minimum Price, Fairtrade cooperatives receive the Fairtrade Premium funds to invest in the community as they see fit.
In 2019, a study on the effects of Fairtrade on the livelihoods of poor rural farmers and workers, focusing on cocoa, found that certification helps co-operatives attract more members, sell larger quantities of cocoa and provide a wide range of services. It also found that Fairtrade increases the annual wages of co-operative workers by about 160 percent, raises the likelihood of receiving at least the minimum wage by 59 percent and reduces the likelihood of living below the poverty line by 35 percent.
We use only the best cacao and other ingredients available to produce an organic chocolate of the finest quality.
The Chocolate and Love collection uses only certified organic ingredients. Organic produce can be traced from the farm to the fork with every process along the way obtaining a certificate of conformity. If the product is altered in any way the operation must be registered and certified. This enables full traceability.
Our Commitment to our Planet: Where we can, we want to contribute positively to our planet So we use FSC certified paper (C106875) for our outer wrappers, plastic-free silver inner wrappers made from renewable wood which are completely biodegradable (EU EN13432 and US ASTM D6400 biodegradability and composting standards) which dissolve in your compost heap in a couple of months and we also collaborate with an innovative re-forestation organisation called Weforest.org.
We have planted trees in Ethiopia and Tanzania. We started our support of re-forestation in 2010 and that year we were among the top 10 donors to Weforest. By planting back we are also helping offset the production of the paper used in packaging our bars.
So you keep eating and we'll keep planting!